By Matthew Martin, Rotorua Daily Post
Rotorua's inner city is set for another key development with the construction of a three-storey, purpose-built office building for Glenn Hawkins and Associates – a Maori accounting and consulting firm based in Rotorua.
The building will be located at 1108 Fenton St – currently a vacant site near Lime Cafe. The design and build will be undertaken by Rotorua's R&B Consultants, who currently own the site.
Upon completion, the land and building will be owned by Glenn Hawkins and Associates (GHA).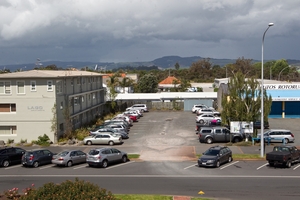 The building will have a total floor area of 1184sq m (ground floor 352sq m, second floor 416sq m, third floor 416sq m).
The development will also have 13 onsite carparks.
Construction will begin immediately with the building expected to be completed by June 2015.
GHA partner Glenn Hawkins said the new building was a significant development for the company, which started in his home office in August 2005.
"We wanted to create an office complex that is great for our team, but also offers plenty of options for our clients. The client meeting spaces will be big enough for large board meetings, seminar style sessions, annual general meetings and other functions.
"We are also establishing a 'corporate village', which will consist of a variety of workspaces that suit our clients' needs. As an example, a client may choose to base their general manager in one of our offices, with the benefit of shared services from our firm, including reception, secretarial, IT, administration and other support."
Mr Hawkins said the building would have a kaupapa Maori look and feel that was consistent with the firm's values and identity.
"We believe this development is significant for the CBD, the Rotorua economy and for Maori business," he said.
The announcement follows news last week of a new development in Lake Rd for Big Save Furniture – another R&B Consultants project.
R&B Consultants managing director Ray Cook said the new Fenton St development was another good example of how the Rotorua Lakes Council's District Plan was going to stimulate growth in the city.
Mr Cook said that wherever possible, R&B Consultants would use local suppliers and subcontractors, which made a further contribution to the local economy. He estimated approximately 50 people will be involved in various stages of the development.
"New developments in the inner city bring an exciting vibe and additional spending."