Hei mua koe i a maatou e Ihowa, hei tohutohu i aa maatou mahi katoa, ko koe hoki hei whakakaha i a maatou i roto i aa maatou mahi, kororia ki tō ingoa tapu.
Kia taka iho ngaa manaakitanga a te Atua ki a Kiingi Tuhetia me toona whare kahui ariki nui. Tangihia koutou ngaa tini mate o te waa kua muu i te poo, moe mai, okioki atu.
Kei aku nui, kei aku rahi, teenaa koutou.
I feel sincerely humbled to be the chairperson of Nga Kaitatau Māori o Aotearoa as I look back and review what we as a roopuu have achieved with our membership in 2016.
The annual NKMoA Hui-a-Tau 2016 in the Bay of Islands saw a record turnout of 170 participants, and more importantly a survey showed we received great feedback from attendees.
There have been some regional initiatives aimed at attracting rangatahi into the profession as well as networking and training sessions throughout the motu. We are also redeveloping our website and adding new content so that it becomes a better communication tool for our organisation in the new year. We plan to launch the new dynamic site in March.
We have also represented the Maori accounting profession both nationally and internationally with four of our executive members recently attending the Indigenous Accounting and Business Conference in Geelong, Victoria, Australia where two of our executives were panel members. While we sometimes take the leadership position as Māori for granted the insights that we learn and provide at these international conferences is much appreciated by delegates from other countries.
We also plan to take a delegation to Canada in 2017 to attend the Inaugural International Conference in Vancouver, on October 2 – 5, hosted by AFOA next year.
The theme of the conference is building sustainable communities by strengthening international networks, and that resonates with me, but I also know that we must have an active organisation at home so we can make a greater contribution to assist the development of our indigenous brothers and sisters overseas.
So once again we thank everyone for their efforts during the year and hope that you take the opportunity to relax and spend quality time with friends and whānau over the festive season and wish you all the best for 2017.
Hai konaa mai i roto i aku mihi
Naa
NKMoA Executive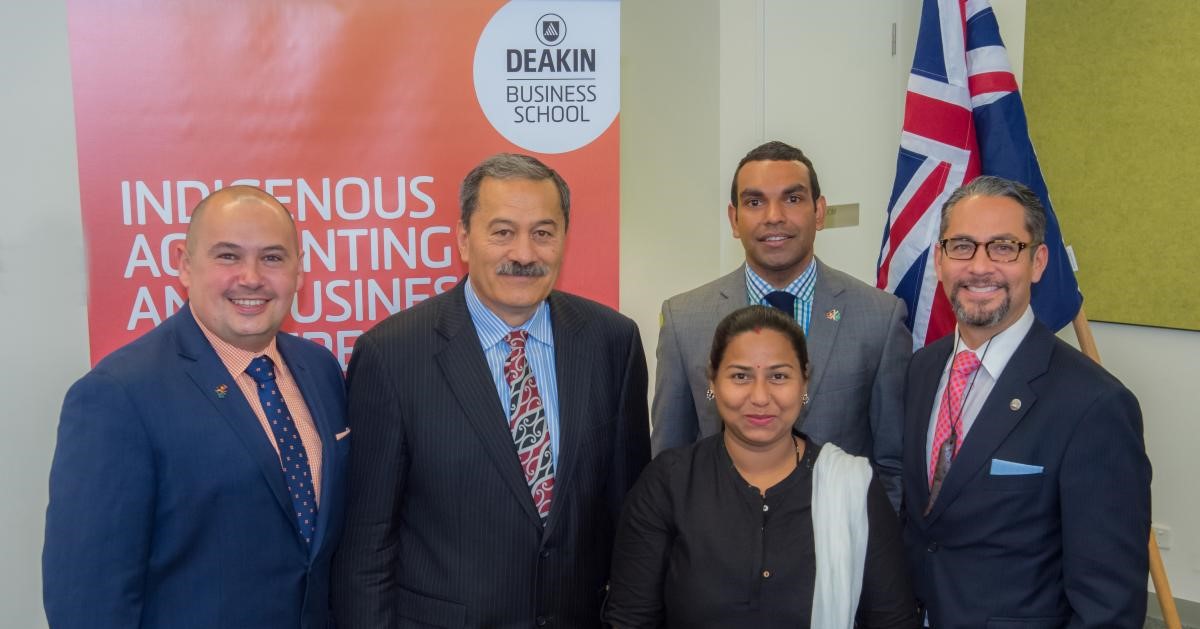 Indigenous Business panel members from left to right Shawn Andrews (Australia), Phillip Tane (NZ), Benson Saulo (rear Chair Australia), Jean Paul Gladu (Canada), and Minaki Chand (front India).
Land holds key for Indigenous Australians
Despite the atrocities faced by Indigenous Australians, there is a glimmer of hope for them to become an economic force in their country.
That's the view of Ngā Kaitātau Māori o Aotearoa executive member Phillip Tane who was one of four NKMoA members who attended the Indigenous Accounting Business Conference held in Geelong, Australia in October.
Australian Government efforts to reduce the vast health, wealth and life-expectation inequality between Indigenous and non-Indigenous Australians have much yet to achieve to close the gaps.
Phillip who was also a panel member discussing Indigenous Business: national and international with indigenous accounting experts and business leaders from Canada, India and Australia at the conference believed there was still latent potential to be realised.
"In spite of the divide between Indigenous and non-Indigenous and the many laws disadvantaging aboriginal peoples 40 percent of Australia is still owned by the Indigenous people which could see them become a future economic force," says Phillip.
The other NKMoA representatives were Mere George, Tamati Smith and Steve Watene.
Attending the conference gave Steve Watene a greater appreciation of the Treaty of Waitangi and despite its many flaws it had meant that Māori are well positioned to rebuild their economic wealth base, language and culture compared to other indigenous cultures.
"We learned about the breakdown of the culture through the abuse that they suffered over generations but we also heard about the reformation of Australia's Indigenous culture," Steve says.
The NKMoA delegation was surprised to learn that of the 300,000 qualified accountants in Australia only eight are Indigenous.
"The indigenous reawakening is being led by academia to increase the number of Aboriginal Accountants in Australia, and unfortunately that has a small audience at this point in time," says Steve.
Indigenous Accounting Business Conference Chair Dr Luisa Lombardi expressed her appreciation of NKMoA's attendance and contribution to the 2016 Indigenous Accounting and Business Conference.
"We especially thank you all for travelling all the way from New Zealand so that a Maori voice was represented at our conference. Many delegates have commented on how valuable they found the insights of the delegates from other countries," Dr Luisa says.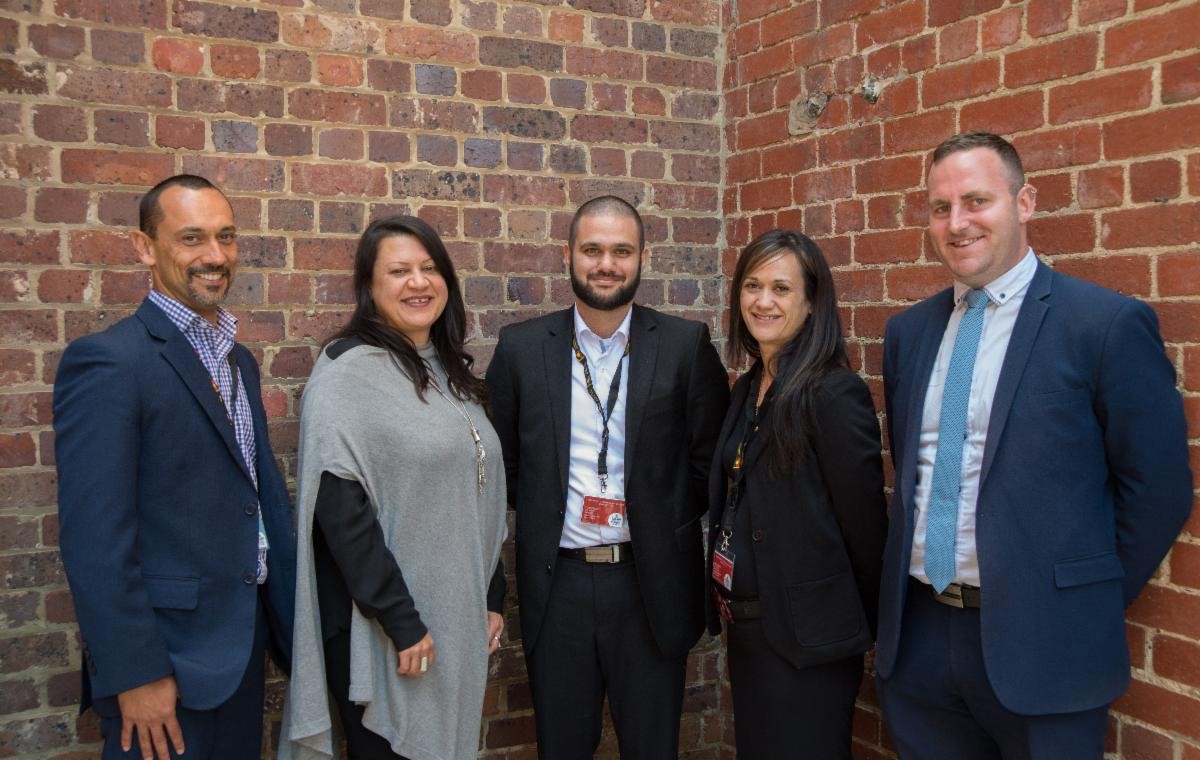 Indigenous financial literacy panel members (from Left) Christian Lugan, Mere George, Ellery Blackman, Amanda Young and Nathan Boyle.
The role of financial literacy among Maori
From trading among whānau, hapu and iwi, Māori were quick to turn their focus to forging business ties with European settlers.
Since the 1840's Māori supplied livestock and crops to the towns and cities that sprang up in Aotearoa. This grew to building business relationships internationally, and Māori traded in Australia and the South Pacific.
NKMoA executive member and GHA Chartered Accountants Management Consultants Mere George, attended the Indigenous Accounting and Business Conference and was a panel member discussing the role of financial literacy in indigenous communities and told delegates that Māori had always been active in the commercial arena.
"From trading pre-European settlement to owning and managing multi-million dollar organisations, Māori have had to respond and adapt to changing social, economic and political environments," says Mere George.
However, the turnaround has not occurred overnight, by the 1900's most Māori land suitable for agriculture had been confiscated by the Crown. It was not until 1995 that the first Treaty of Waitangi settlement took place. Waikato-Tainui successfully negotiated an apology for the confiscation of more than a million acres and $170 million land and cash compensation.
Several other iwi have since negotiated Treaty of Waitangi settlements with the Crown and have established new structures to grow the settlement funds as well as returning a dividend to iwi.
"For example, financial literacy at an iwi level resulted from having to properly manage post-settlement assets. Iwi trustees have required and been exposed to a higher level of financial literacy, and in-turn have been motivated into learning and developing their financial literacy skills.
Mere says addressing financial literacy at the whānau level was also a priority.
"Iwi initiatives such as Ngāi Tahu's savings programme 'Whai Rawa', and the Government's Māori economic development strategy, 'He kai kei aku ringa', which promotes the normalisation of economic talk and practice within the whānau are examples of initiatives to develop financial literacy among Māori."
Events Jan-Mar 2017
Jan 2017 – Hosting Deakin University Senior Lecturer Dr. Luisa Lombardi (pictured right) in Auckland and Rotorua who is conducting interviews for research about: The role of accounting and business in strengthening capacity of Indigenous peoples in Auckland and Rotorua.
Feb 2017 – NKMoA Strategic Planning meeting with ACP.
Mar 2017 – Hosting NKMoA vs Te Huinga Roia o Aotearoa sports day in Auckland.
NKMOA to partner with GHA to host
Hui-a-Tau 2017
Ngā Kaitatau Māori o Aotearoa are working in partnership with GHA to host the 2017 Hui-a-Tau event in Rotorua.
GHA is a mid-sized Māori owned and operated Chartered Accountancy and Management Consultancy firm that is passionate about helping Māori to succeed. GHA was established by Glenn Hawkins in 2005, and it has 22 practitioners specialising in advising Māori entities throughout Aotearoa.
The last time the event was held there was 2011, and the comments from attendees were that the event was inspirational, stimulating and well organised.
NKMoA chairman Wayne Panapa confirmed that Te Arawa is hosting the event in Rotorua and that the tentative date is July 14,15.
The possible themes for the event are:
Innovation and Entrepreneurship
Looking at the history of innovation within Māori history and how that can be harnessed in current times to see Māori leap frog over mainstream economic growth expectations.
Land Utilisation
Land Utilisation is a hot topic in the central government lead Regional Growth Study and a key focus of the He Mauri Ohooho Māori Economic Growth Strategy. Our role as accountants and professional services is to assist Māori to make sound decisions regarding their land assets. This would be an excellent opportunity for some knowledge to be shared about this topic.
Disruptive Innovation
What does disruptive accounting look like, in light of recent software developments like Xero?
​
​