So much has been happening for Māori business in 2018 and there are some impressive statistics to reflect on.  Māori entities now own 40% of fishing quota in NZ, 36% of forestry assets, 30% of lamb production, 10% of dairy production and are major players in kiwifruit.  GHA is proud to play its small part to contribute to the ongoing success of our clients.
We feature a few highlights from the final quarter of 2018 that showcase the range of opportunities for business development, business growth and business innovation, led by Māori.
Te Hononga Indigenous Business Research Symposium – Rotorua, 8th October
More than 70 indigenous researchers, academics and business leaders from across the globe gathered at Tangatarua Marae in Rotorua on October 8th to discuss indigenous business research ahead of the World Indigenous Business Forum being held the same week.  In partnership with Massey University, GHA hosted the networking event for the Symposium participants and Glenn Hawkins joined a panel of business leaders to provide insights into where our entities are headed. He emphasised the need to maintain our global connections as researchers, businesses and entrepreneurs, to ensure we utilise those connections to grow the talent pool required to take our businesses to the next level.  If you are keen to find out more about indigenous business research, contact Glenn Hawkins at glenn@gha.co.nz.
Tax Working Group Consultation Hui – Rotorua, 8th October
The Tax Working Group led by the Chair, Hon. Dr Michael Cullen met with Māori entities in Rotorua to engage on the Tax Working Group's (TWG's) interim findings and recommendations.  The hui was an opportunity for officials and Tax Working Group members to seek feedback on implications for Māori authorities, Charities, Environment, Capital income and wealth; and roll-over relief.  Issues ranged from whether there was support for the 17.5% rate for Māori authorities to continue; whether the 17.5% rate should extend to wholly-owned susidiaries of Māori authorities, and finally, whether technical refinements to the Māori authority rules should be considered.  The TWG will provide final recommendations to the Government in February 2019.  For a copy of the interim report or more information about submissions and the work of the TWG, click here: https://taxworkinggroup.govt.nz/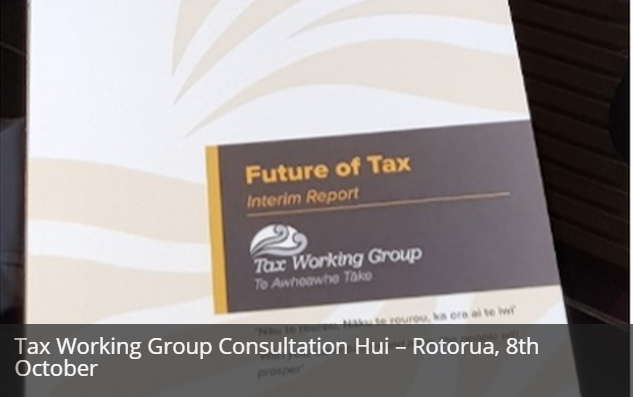 Te Pae Tawhiti Kia Tata – Māori Business; Global Opportunity, Rotorua, 9th October
GHA and NZTE (NZ Trade and Enterprise) co-hosted a networking event for export-led Māori businesses and entities on October 9th at the Blue Baths in Rotorua.  More than 100 attendees from afar afield as Tonga, Chile and the US attended the event alongside Māori Develoment Minister Hon Nanaia Mahuta. The Chairman of the Māori Economic Development Advisory Board (MEDAB) Robin Hapi spoke about the need to maintain strong Māori values of whanaungatanga and manaakitanga as we extended our reach and influence across the globe.  The Kawerau Dairy Project supported ably by Richard Jones and the team at Poutama also announced the brand "Wai Ū" at the function.  For more details about the role of NZTE, click here: www.nzte.govt.nz.
Oren Gershtein Workshop, Rotorua 15th October
GHA partnered with Callaghan Innovation to offer 20 Māori entities the opportunity to workshop with world leading tech innovation expert Oren Gershtein.  Israel is one of the world's leading tech powerhouses, and Oren has been at the centre of its exponential growth.  Entities from as far afield as Maniapoto and the Far North attended the workshop in Rotorua and many shared similar challenges to innovating and investing in technology in their organisations.  When asked what steps we could take as a country to build our own entrepreneurial ecosystem, Oren spoke about the need to map a policy framework to incentivise all parts of the ecosystem; to ignite the framework at the same time so people get the right support at the right time; and to work with our rangatahi to create opportunities to access tools, experience and mentors in the ecosystem.  For more information about innovation and how you might apply it in your business, please contact Matiu in our Consulting team: matiu@gha.co.nz.